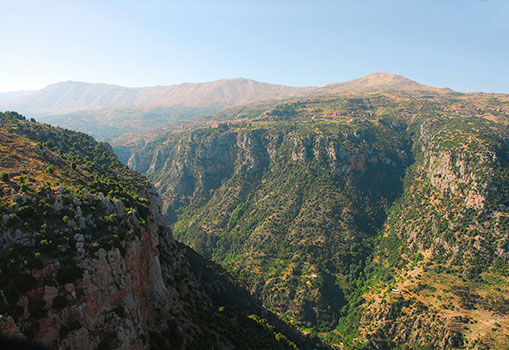 The GERSL undertook pioneering tasks in surveying and publishing important researches on the Qadisha Valley after documenting systematically nearly 100 natural and historical sites (check our Publications page); The discoveries and the explorations carried out by the GERSL contributed directly to increase awareness on the natural & cultural heritage of the place; consequently, the local authorities listed the Qadisha Valley on the National Heritage List of Lebanon followed by a international declaration made by UNESCO in 1998 putting the Qadisha valley along with the Cedars Forest of Bsharri on the World Heritage List (categorized as a Cultural Landscape).
At present the GERSL, and after completing the surveys (mapping & documentation) of the Qadisha Valley, is undertaking detailed and thorough analysis in collaboration Phoenix Center at USEK University, Lebanon.
Some of the most important works & discoveries:
Hadath Grotto, located at the village of Hadath-l-Jibbat. It is by far, the most important archaeological discovery in Lebanon with regards to the Middle -ages. The discovery dated baclk to the 13th century and included mummified bodies buried with their cotton clothes and linen shrouds in addition to around 300 artefacts (pottery, glass, wood, coins, manuscripts, …) showcasing the daily life of the mountain communities at that time. (references: Momies du Liban, edition Edifra 1994 and Asi-l-Hadath Lebanon History of a Grotto, Phoenix Centre for Lebanese Studies, Research 4, PUSEK, 2011).
Hawqa Grotto, located in the village of Hawqa: the discovery of the oldest Christian Arabic inscription dated back to 1193 AD. (Ref. Liban Souterrain,1,1988).
The Site of Mar Assia, located in Hasrun, The discovery of an ecclesiastical Ethiopian inscription known as Geez in the hermitage of Mar Assia (This discovery was published for the first time in Maronite Encyclopedia in 1992 – see also Liban souterrain, 4, 1993 and 5, 1998). This discovery finally ended the debate that has existed among some historians; some of them have refuted the fact that the Ethiopian monks who came to Mount Lebanon in the fifteenth century were of Ethiopian origin, however they came from the Monastery of Mar Mussa al-Habshi near al-Nebk in Syria.
Dalmas Grotto, located in the village of Beit Munzer. A fortified cave dated back to the 13th, 14th AD. The site was possibly used as a postal site under the Mamluk reigns.
Saydet Qannubine Monastery, located in the Qadisha Valley. Discovery of the only fresco dating back to the thirteenth century in the hallway under the church of Qannubine Monastery.
Ouadi Mar Lichaa caves & hermitages: continuous exploration of a series of grottoes of difficult access in the 300 meters high cliffs (see also al-Hamam grotto in Liban Souterrain, 5, 1998).